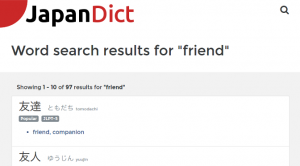 We've always considered the search functionality one of the most important features in the JapanDict Japanese dictionary. Since we first launched JapanDict back in 2010, we wanted to create the fastest experience when looking for Japanese or English words in our dictionary. We also wanted to provide with coherent results: there is no point to provide a way to search words if you cannot find what you were looking for.
When we updated JapanDict few months ago,  we improved the way the search was working, making it more natural and providing more results related with the searched word, however we believe it was possible to improve it even more.
After some investigation and testing, we've now changed  few things to provide what we believe is the best search experience in any online Japanese dictionary. Not only it's now much faster but also it's returning the results in a more coherent order, showing more popular words before the less used ones.
Some example searches we've greatly improved are:
Give it a try, check the newly improved search in JapanDict and let us know what you think!